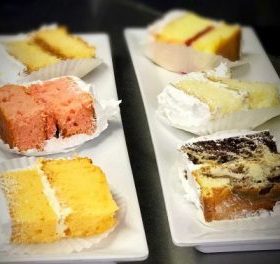 At Azucar Bakery our passion is to produce breathtaking and delicious custom cakes that will not only compliment your special events but be remembered for years to come. We will work with you to take your ideas and inspiration and turn them into reality. View our Cake Gallery for ideas for your next cake!
We would be honored to provide a cake for your next special occasion. Such as weddings, birthdays, holidays, graduations, baby showers, bridal showers and more!
We offer an open house most Sundays from 11:00 am to 3:00 pm, come and try FREE cake!! * Please note: If you would like to try specific flavors and/or sit with a Cake Specialist to discuss design/price/details you will need to make a Personal Cake Tasting appointment online.  We do not take appointments on Sundays.
*We currently offer either fondant or whipped buttercream icings*
Traditional Cake Flavors (13)
Chocolate cake with raspberry filling
Chocolate cake with dulce de leche filling
Chocolate cake with chocolate mousse filling
Chocolate cake with mocha filling
Funfetti cake with cream cheese filling
Lemon cake with raspberry filling
Lemon cake with lemon curd filling
Marble cake with Bavarian cream filling (NOT AVAILABLE FOR CUPCAKES)
Poppy seed with strawberry filling
Red Velvet cake with cream cheese filling
Strawberry cake with Strawberry cream filling
White cake with cream cheese filling (Traditional Wedding Cake)
Yellow cake with dulce de leche filling (Peruvian Cake) *Our yellow cake has a dense cake crumb*
Specialty Cake Flavors (15)
Almond cake with cream cheese filling
Banana cake with Bavarian cream filling
Carrot cake with maple cream cheese filling
Chocolate cake with hazelnut filling
Chocolate Cake with German Chocolate filling
Coconut cake with Bavarian cream filling
Coconut-Walnut Cake with dulce de leche filling
Dark chocolate chip cake with Ganache filling (Award winning)
Guava cake with guava whipped cream filling
Guava cake with guava cream cheese filling
Coconut-Walnut Cake with dulce de leche filling
Pumpkin cake with dulce de leche filling
Spice cake with apple filling
Tres Leches (only available as sheet cakes)
White cake with whipped cream and fresh fruit filling (NOT AVAILABLE FOR CUPCAKES)
Zucchini cake with whipped cream and fresh fruit filling (NOT AVAILABLE FOR CUPCAKES)